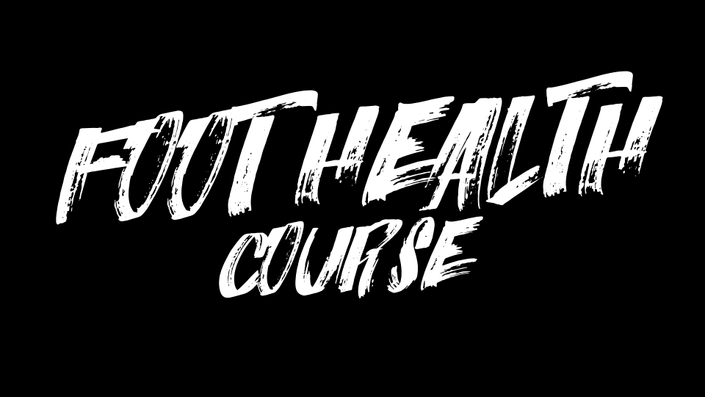 Dr. Z's Foot Health Course
If you wear shoes, your feet need this.
THE FOOT HEALTH COURSE
Don't let foot pain and weak feet be your achilles heel. Injuries like plantar fasciitis, flat feet, fallen arches, bunions, turf toe and achilles tendonitis will slow your life and limit your training.
The Foot Course is designed to help you strengthen and reclaim your foot function and prepare you for a life free of foot pain. Over the course of a decade of experience working with athletes of all disciplines, we have noticed one common denominator that determines the health and performance of the human body - the feet! Our connection with the ground is the most valuable, and often neglected, aspect of athleticism and the human experience
Transforming the way your foot functions is the most efficient and effective way of eliminating pain, correcting compensations, and empowering performance on the field, court, or pitch.
The Foot Course has been designed for anyone wanting to improve the overall strength and function of their feet. We look at all the common foot problems affecting our population today and why this has become such a problem in many people's lives. Dr. Matt Zanis will guide you through the anatomy of the foot to understand the problems you are facing. From there he will lead you through the movements and exercises he has used with his top tier athletes to improve and restore the overall function of the foot and address any specific foot problems as it relates to shoes and foot health.
The course can be accessed on multiple devices such as tablets, desktops or your phone with ease of access.
This course will include over 45 minutes of video instruction laid out in a simple and easy to follow format and help you reclaim your foot function, eliminate foot pain, and restore the foundation of your movement patterns.
What is included?
Foot Anatomy
Self Assessment
Videos with exercises and detailed instructions
Active exercises
Manual exercises
Exercises to improve function
Shoes recommendations
Foot Restructuring Plan
Easy to follow platform
Your Instructor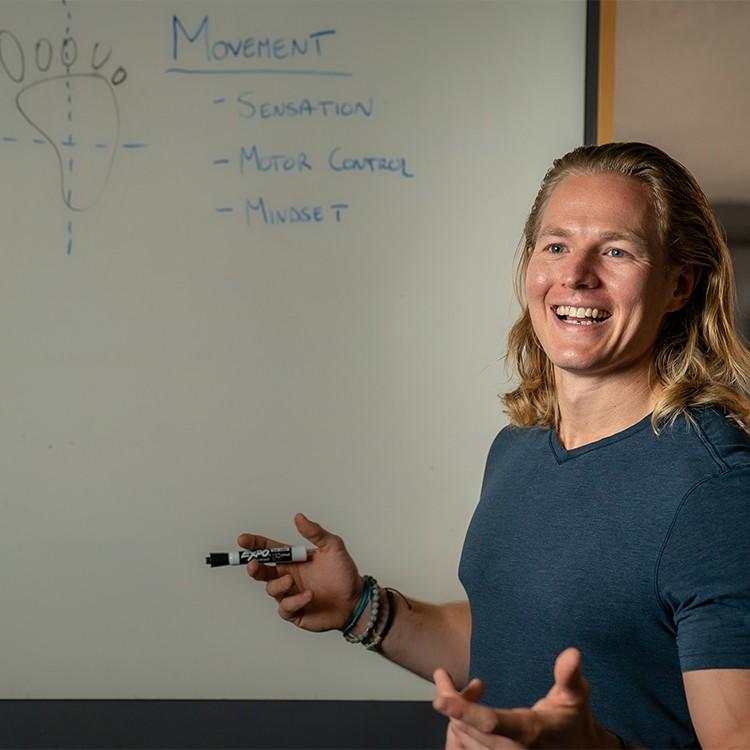 Dr. Matthew Zanis, owner of Rooted in MVMNT, is a human movement and vitality expert. Dr Zanis attained his bachelor's in athletic training from the university of Pittsburgh and doctorate in physical therapy from Duke University. He is a strength and conditioning coach, orthopedic specialist, and fellowship trained in manual therapy. Dr. Zanis works with a broad demographic from Olympians to Navy Special Warfare and everyone in between. His vision is to create an awareness of new ways of working with the human body in rehabilitation, performance, and coaching circles, and bring that alive for strength and conditioning and rehabilitation professionals alike through a philosophy that is rooted in movement.
Rehabilitation and training for performance are one in the same. They may fall on different ends of the spectrum of athleticism, but the process of progression is identical. Rehabilitation is simply training in the presence of pain or discomfort. It's about understanding your weaknesses, learning how to move your body well, and building capacity and durability with progressive overload to handle whatever life throws at you.
COURSE CURRICULUM

Section 1 - Everything You Need to Know About Your Feet
1.1: Introduction
1.2: Spend Time Barefoot
1.3: Reclaiming Your Feet
1.4: Toe Spreaders
1.5: Shoe Selection
1.6: Foot Function and Foot Shape
Section 2 - Fixing Your Feet
2.1: Foot Self-Assessment
2.2: Dr. Z's Foot Fixing Training Program
2.3: Dr. Z's Final Thoughts
Frequently Asked Questions
When does the course start and finish?
The course starts now and never ends! It is a completely self-paced online course - you decide when you start and when you finish.
How long do I have access to the course?
How does lifetime access sound? After enrolling, you have unlimited access to this course for as long as you like - across any and all devices you own.
Is the course mobile and tablet friendly?
Yep. All Power Athlete Academy courses are fully responsive, and can be accessed on any of the devices that you own.
Who should take this course?
If you find yourself walking around on two feet every day, you need this course! 90 percent of people, including athletes, have jacked up feet. Whether you are looking to eliminate painful feet, correct your flat or overly rigid feet, or improve your athletic performance, this course is for you!
Will this course help fix my foot pain?
Yes! Pain is multifactorial, and this course addresses many of the variables related to painful feet, including weak muscles, low sensory input, and immobility.
Will this help with plantar fasciitis?
Yes! Plantar fasciitis is a weak foot problem, not a structural problem like many would have you believe. The plantar fascia gets irritated when the muscles in the foot aren't doing their job to support the joints and absorb forces related to activity. This program will give you the movement tools to build strength in your feet and allow the plantar fascia to "take a load off."
Will this correct bunions?
Yes! Bunions are not genetic. They are the direct result of lifestyle choice and environmental factors, including shoewear. This course will give you actionable steps and strategies to correct bunions through movement and lifestyle modification.
Will this fix my flat feet?
The structure of your feet is not as important as the function. Everyone has different "architecture." Flat feet are not genetic, and are not a death sentence. The foot is like any other part of the body - it can be strengthened! By training the foot with this course, you will build up the arch, taking your feet from pancakes to pillars.
Will this help with neuropathy?
Neuropathy can been the result of neurological and metabolic disorders. While this course won't directly cure the source of neuropathy, the methods instructed will breathe life back into your feet by improving nervous system movement potential, oxygenation, and blood flow - which all WILL help anyone with limited sensation in the bottom of their feet.
How much time do I need to spend on the movements to see results?
Best results will be seen when attacking these movements 3-4 times a week. Each session will take you around 15-20 minutes.
Can I incorporate this program into my other training programs?
Yes! These movements are great to throw in as a dynamic warm up prior to any of your scheduled sessions.
Are there any associated CEU's with this course?
There are no associated continuing education units with this course.